Description
The Honda HRX range of lawnmowers is renowned the world over for being nimble, reliable, and quiet. All models from this series combine hardworking Honda engineering with ultra-modern ergonomic design to produce a range of lawnmowers that consistently outclass their competition. 
What you will immediately notice on the HRX537VY is the effect of its GCV 190 OHC 187cc engine; the power of this engine allows the mower to perform even better and cover greater distances. Moreover, changing speed to suit your preference has never been easier; the whole process is placed at your fingertips with Honda's simple to use SMART Drive® technology. You can even keep the engine running whilst stopping the blade thanks to the inclusion of Honda's RotoStop® blade brake clutch system, which allows you to transport the mower over rough ground without having to spend extra time and effort on restarting the engine. 
This model comes fully equipped with Honda's innovative Versamow™ variable mulching technology, meaning that you can select from a tiered system by simply adjusting a lever, even allowing you to collect and mulch at the same time! Moreover, storage space is saved due to this model's easy to fold handlebars. 
Perhaps one of the most impressive features of the HRX537VY is its ultra-strong Xenoy® cutter deck, made using polymers instead of traditional metal materials. This not only practically eliminates corrosion of any form, but it also makes the whole mower very light and thus easy to manoeuvre. This material also enables the deck to be designed to maximise cutting performance and reduce sound output. Even the cutter blade has undergone design improvements to make it quieter, as well as to make sure that it does not damage the mower should you accidentally hit a solid object. 
Honda HRX lawnmowers are supported with the most comprehensive warranty in the industry: 7 years when used in a domestic environment.
PRODUCT FEATURES
• Single-point height of cut adjustment with the choice of seven different positions (20mm-100mm), allowing you to set the cutting height of the mower to suit your lawn
• Honda SMART Drive® system enables you to change speed with total ease, placing control at your fingertips
• Extended 53cm cutting width, ideal for maintaining medium and large gardens 
• High airflow grass bag, designed to utilise air intake to maximise collecting performance; also comes with a handy dust cover
• This model comes with a full seven year warranty (subject to servicing)
Variable speed – Select Drive®
Ideal if you like perfection and accuracy.
Select Drive®is designed to allow you greater accuracy around trees, edges, walls and flower beds by giving you fingertip control of ground speed. With the added capability to set a constant mowing speed, Select Drive®will help you mow large areas with ease.
Versamow ®variable mulching
A choice with no hassle
Versamow ®offers you the opportunity to switch between mulching and collection modes effortlessly. What's more, we designed MicroCut, a system that uses two blades so the grass is cut twice in order for the clippings to be as small as possible. Versatility at its finest.
Roto-stop®
Be safe, be Honda
Roto-stop®is otherwise known in the industry as a Blade Brake Clutch. With this feature you can control the blades independently of the engine control. When the handle is released the blades will disengage but the engine will continue to run.
Unrivalled warranty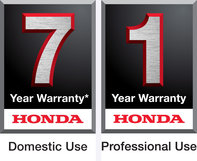 Our mowers are built better to last longer. That's why we can offer you a rock-solid warranty for domestic and professional use on our core range products, covering both parts and labour. The warranty also maintains the same value throughout the warranty period – meaning the last day of cover is exactly the same as the first.
*Subject to domestic use and following the service schedule