Description
The HRX range of lawnmowers from Honda offers high quality performance, expert-designed machinery and innovative ergonomic features. These mowers are thus some of the best of their kind, and will reward your hard work with an unbelievable finish.
What makes the HRX476VY stand out is its SMART drive system, which allowsyou to cut the lawn at your own pace and a Versamow® cutting system that will give you the ultimate flexibility, including in the Versamow™ selective mulching system that allows you to control the amount of grass that is being recycled; this system even allows you to mulch and collect clippings at the same time! The HRX476HY can also be transported across gravel without having to stop and subsequently restart the engine, due to its RotoStop® blade brake clutch allowing you to disengage the cutting blade without having to turn off the engine, thus saving you time and effort.                   
This mower is powered by the new Honda GCVx 170cc engine which has an enhanced combustion system and is super-efficient – much better for the environment – providing class-leading power with usable torque; muscle that'll do all the work for you. The engine also comes with an auto choke, which removes the need to make any form of manual adjustments. Noise levels are further reduced due to the specially modified cutting blade. The deck of this machine is perhaps one of its most innovative features; it is built using Honda's Polystrong® polymer technology, which enables it to retain a high level of strength and corrosion resistance whilst being very lightweight. Manoeuvrability is also enhanced, as the whole mower rests on wheels fitted with smooth running ball bearings. 
Moreover, this machine is both durable and convenient; the cutter deck linkage is reinforced to help protect against any damage that could occur during transport, and the handlebars fold away, making storage simple and straightforward.
PRODUCT FEATURES
• Honda offer a seven year warranty (subject to servicing), allowing you to demand the most out of this high performance mower
• SMART Drive system allows you to control the forward speed of the mower while keeping a consistent blade speed, all at the control of your finger tips
• Versamow™ variable mulching system for an innovative, tiered approach to mulching, enabling you to collect and mulch simultaneously!
• Single-point height of cut adjustment (25mm-79mm) for easy and accurate customisation
• Large 47cm cutting width that allows this mower to perform well on medium to large lawns
Variable speed – SMART Drive®
Ideal if you like perfection and accuracy.
SMART Drive®is designed to allow you greater accuracy around trees, edges, walls and flower beds by giving you fingertip control of ground speed.
Versamow ®variable mulching
A choice with no hassle
Versamow ®offers you the opportunity to switch between mulching and collection modes effortlessly. What's more, we designed MicroCut, a system that uses two blades so the grass is cut twice in order for the clippings to be as small as possible. Versatility at its finest.
Roto-stop®
Be safe, be Honda
Roto-stop®is otherwise known in the industry as a Blade Brake Clutch. With this feature you can control the blades independently of the engine control. When the handle is released the blades will disengage but the engine will continue to run.
Unrivalled warranty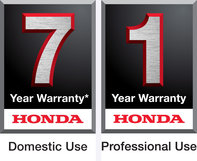 Our mowers are built better to last longer. That's why we can offer you a rock-solid warranty for domestic and professional use on our core range products, covering both parts and labour. The warranty also maintains the same value throughout the warranty period – meaning the last day of cover is exactly the same as the first.
*Subject to domestic use and following the service schedule