Description
Honda's HRX range represents the most recent in cutting-edge, high performance mowing technology, as well as incorporating a host of modern ergonomic features that will make any mowing job a real pleasure to carry out.
The HRX 426 SX is powered by Honda's 160cc OHC GCV four-stroke engine, designed for reduced emissions and low sound output as well as performance that will enable you to use this mower on irregular or even sloping terrain. This machine also uses single speed propulsion, which ensures that engine performance is optimised for mowing or mulching while the inclusion of an auto choke saves you the effort of adjusting the choke when restarting. The cutting blade is intelligently designed so that if it hits a stone, it will twist instead of breaking, and will thus help prevent cutter deck damage; the blade is also designed to minimise noise output. Moreover, the grass bag is designed for optimised airflow, which ensures that collection is improved, and also comes with a handy dust cover.
The HRX 426 SX also features an optional mulching system that allows you to save time spent on grass disposal, and which will also dramatically improve the quality of your soil and the future health of you lawn. Furthermore, the cutter deck linkage is reinforced, which helps to prevent any damage that may occur whilst transporting your mower, and ball-bearings in the wheels will ensure that using this mower is a very smooth and pleasant experience. Personalising your mower has never been easier either, as the 426 SX allows you to easily adjust the height of cut from a single point, while the handlebars can be folded away very quickly, making storage quick and simple.
PRODUCT FEATURES
42cm cutting width enables this mower to perform exceedingly well on medium to large lawns

Single point height of cut adjustment (25mm-78mm) makes optimising this mower to suit your lawn quick and easy

Innovative Honda PolyStrong® deck that is not only very lightweight, but also heavily resistant to impact damage and corrosion

Cutting deck interior is curved to optimise cutting performance

RotoStop® blade brake clutch enables you to disengage the cutting blade without stopping the engine, saving on engine restarts and making it easier to transport the mower

Seven year warranty (subject to servicing) will ensure that you will get years of great performance from this fantastic lawnmower
Self-propelled (single speed)
Perfect for medium sized lawns and larger.
With our single speed transmission, you can cover larger areas with minimum effort. Benefiting from power delivered by the Honda GCV160 engine, you will feel the difference particularly on rough, irregular or even sloping grounds.
Roto-stop®
Be safe, be Honda
Roto-stop®is otherwise known in the industry as a Blade Brake Clutch. With this feature you can control the blades independently of the engine control. When the handle is released the blades will disengage but the engine will continue to run.
Unrivalled warranty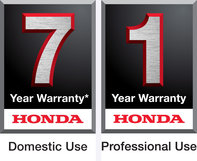 Our mowers are built better to last longer. That's why we can offer you a rock-solid warranty for domestic and professional use on our core range products, covering both parts and labour. The warranty also maintains the same value throughout the warranty period – meaning the last day of cover is exactly the same as the first.
*Subject to domestic use and following the service schedule