Description
Honda is a name associated with innovative technology solutions worldwide, and for over thirty years now they have been designing and producing high quality lawnmowers, consistently setting the bar higher and higher in terms of performance, reliability and safety. Among the wide range of mowers available from Honda today is the Honda HRX426QX, a powerful self-propelled rear roller petrol mower designed to produce a classic stripe effect as you mow. 
All mowers in Honda's HRX series are more than capable of handling lawns of any size, and the 426 QX's 42cm cutting width will make especially light work of mowing small to medium sized gardens (up to 1/2 tennis court). Powered by Honda's fuel efficient and clean running 160cc GCV160 OHC four-stroke engine, the Honda HRX426QX also features a single-speed self-propulsion system, calibrated for a consistent and even finish, which drives the mower forward at a steady rate and takes much of the hard work out of mowing larger lawns. Moreover, the quality of finish achieved is further enhanced by the rear roller, which simultaneously produces the iconic stripe effect familiar from fine lawns everywhere and stabilises the mower, providing greater control when navigating obstacles and borders. 
Safety and convenience also play a large part in Honda's design process. The Roto-stop® blade-brake clutch system, for example, is included so that you can disengage the cutting blade without having to stop the engine, allowing you to empty the sixty litre grass bag or transport the mower across gravel safely and easily. The Honda HRX426QX also features variable cutting height (19mm-55mm), controlled via a quick height adjust lever, allowing you to adapt the mower to the conditions of your lawn. Finally, cutting deck of the HRX 426 QX is made from Honda's patented Polystrong®; a modified thermoplastic designed to be tough, light and long-lasting. The Honda HRX426QX is therefore capable of delivering enough power, performance, control and durability to take on almost any mowing task.
PRODUCT FEATURES
• 42cm (17") cutting width, capable of handling grassy areas of any size and perfect for medium to large domestic lawns
• 160cc GCV160 OHC four-stroke engine and a hard-working single speed (0.9m/s) powered drive system
• Wide rear roller for added stability when manoeuvring mower and a classic striped finish as you mow
• Five position variable cutting height adjustment (19mm-55mm) to suit your lawn conditions
• Fitted with Honda's Roto-stop® blade-brake clutch system for safety and convenience
• Handlebars featuring quick and easy release height adjustment and folding arm for easy storage
Self-propelled (single speed)
Perfect for medium sized lawns and larger.
With our single speed transmission, you can cover larger areas with minimum effort. Benefiting from power delivered by the Honda GCV160 engine, you will feel the difference particularly on rough, irregular or even sloping grounds.
Roto-stop®
Be safe, be Honda.
Roto-stop®is otherwise known in the industry as a Blade Brake Clutch. With this feature you can control the blades independently of the engine control. When the handle is released the blades will disengage but the engine will continue to run.
Unrivalled warranty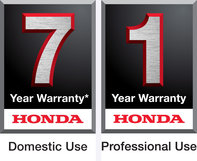 Our mowers are built better to last longer. That's why we can offer you a rock-solid warranty for domestic and professional use on our core range products, covering both parts and labour. The warranty also maintains the same value throughout the warranty period – meaning the last day of cover is exactly the same as the first.
*Subject to domestic use and following the service schedule