Description
New for 2014 is Honda's self-propelled HRG 536 VK Izy four-wheeled rotary lawnmower, delivering top quality performance, a high degree of versatility and a design which keeps things simple, ensuring that even less experienced users can operate it without any hassle. Equipped with a tough 53cm steel cutting deck, a choice of grass disposal options and a SMART drive® variable speed system, this mower is ideal for tackling large gardens, particularly when you need to navigate around ornaments and obstacles or deal with rough or sloping ground. 
Thanks to the HRG 536 VK's Versamow™ selective mulching system, the HRG 536 VK offers both traditional cut and collection and super efficient mulching cutting modes, with an easy-to-access lever on the cutting deck providing a quick and easy method for switching between the two. When using the collection option, an impressive 73 litre grass bag is supplied as standard, large enough to perform admirably in even the biggest gardens. Its high air flow design further improves efficiency, and the fine mesh used in its construction traps dust and helps to prevent blockages. The mulching function, meanwhile, allows you to recycle your grass clippings as a natural fertiliser; grass is cut and re-cut before the tiny particles are blown down into the surface of the soil where they release vital nutrients to promote the growth of a healthy green lawn. For even greater versatility, the HRG 536 VK also features a pleasingly simple height of cut adjustment system, with a lever mounted on the chassis allowing you to choose from between six different positions ranging from 28mm to 102mm. 
Moreover, with the HRG 536 VK's SMART drive® variable speed system you have complete control at your fingertips, allowing you to adjust the mowing speed to suit the operating conditions. This gives you greater accuracy when you are mowing around trees and flower beds, for example, and protects your lawn surface when you manoeuvre by allowing you to reduce speed as required. The SMART drive® transmission system is made from cast aluminium, which is shock-resistant and ensures smooth power for added reliability. A powerful and quiet-running 160cc GCV160 OHC four-stroke Honda engine, offering a top forward speed of up to 1.65m/s, provides propulsion. Moreover, an easy start is guaranteed every time, even in cold weather, by the auto choke system, while added comfort is provided by the soft grip material of the starter cord. The wheels, meanwhile, feature smooth running ball bearings for excellent manoeuvrability, which is particularly crucial when you are traversing rough or uneven ground. 
Other design features which help to guarantee longevity and high quality performance, include the intelligent design of the cutting blade, which reduces running costs and lengthens the life of the blade by ensuring the blade twists, rather than breaking, if it hits an obstacle. The steel cutting deck is similarly blessed by Honda's expert engineering, and treated to resist rust, corrosion and UV abrasion for greater durability. Furthermore, storage is made far easier by the mower's folding handlebar, while a low overall weight of only 37kg means that transportation is similarly straightforward. Finally, Honda's confidence in the quality of the HRG 536 VK is such that they even offer a full three year warranty as standard, meaning you can use this machine safe in the knowledge that it is built to last.
Variable speed – SMART Drive®
Ideal if you like perfection and accuracy.
SMART Drive®is designed to allow you greater accuracy around trees, edges, walls and flower beds by giving you fingertip control of ground speed, helping you mow large areas with ease.
Versamow ®selective mulching
A choice with no hassle
Versamow ®offers you the opportunity to switch between mulching and collection modes effortlessly. What's more, we designed MicroCut, a system that uses two blades so the grass is cut twice in order for the clippings to be as small as possible. Versatility at its finest.
Unrivalled warranty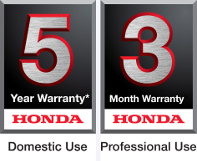 Our mowers are built better to last longer. That's why we can offer you a rock-solid warranty for domestic and professional use on our core range products, covering both parts and labour. The warranty also maintains the same value throughout the warranty period – meaning the last day of cover is exactly the same as the first.
*Subject to domestic use and following the service schedule