Description
Honda's quiet-running IZY lawnmowers are well known for their reliability, ease of use and performance. As a company, Honda is especially aware of the impact that their machinery has on the environment, and you will see this philosophy embodied throughout their range. 
The Honda HRG536SK is a petrol mower which represents the best the IZY range has to offer, and is among the best medium sized lawnmowers available. Powered by an upgraded OHC four-stroke GCV 160cc engine with automatic choke, you can still expect a quiet mowing experience thanks to the way in which the engine is precision engineered to reduce vibrations and the inclusion of an innovative internal timing belt. This model also offers a 53cm cutting width with which other similar models cannot compete, ensuring great performance even on larger lawns. Moreover, the HRG 536 SK features a single-speed self-propulsion system, making it even easier to meet the demands involved in any mowing job.
The tough but lightweight chassis of the Honda HRG536SK is manufactured from treated steel; the cataphoresis processing used in the production of this machine ensures that it will be protected from rusting, UV abrasion, and corrosion. Honda is so confident in this process that they also include a three year full warranty so that you can rest easy in the knowledge that your machine is built to perform consistently.
The Honda HRG536SD's grass bag is also designed to utilise airflow to increase grass collection, ensuring that your mower is capable of collecting as much grass as possible and thus reducing the number of times you will be required to empty the bag.
Self-propelled (single speed)
Ideal for making light work of mowing
Self propelled mowers take the physical work out of mowing the lawn. Set to a comfortable speed you can let the mower do the hard work while you just guide it.
Unrivalled warranty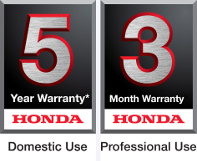 Our mowers are built better to last longer. That's why we can offer you a rock-solid warranty for domestic and professional use on our core range products, covering both parts and labour. The warranty also maintains the same value throughout the warranty period – meaning the last day of cover is exactly the same as the first.
*Subject to domestic use and following the service schedule