Description
Part of the Izy range of four-wheel rotary lawnmowers, the Honda HRG466SK is an upgraded version of the HRG 465 SD and embodies Honda's acute attention to detail when it comes to design and craftsmanship, offering convenience and ease of use without sacrificing top-quality performance. This model is self-propelled, making it much easier to use than a push propelled mower, and ideal for maintaining medium to large gardens with uneven, undulating or sloping lawns. 
The HRG 466 SK has also been built to last and boasts a robust steel cutting deck offering a wide cutting width of 46cm, specially treated to resist corrosion, rust and UV abrasion for a longer service life. Honda's intelligent blade design, meanwhile, will save you money and reduce maintenance requirements; if the blade hits an obstacle, it will twist rather than break, making the HRG 466 SK more reliable and easier to service. The HRG 466 SK even comes with a full three year warranty for added peace of mind. 
Propelling the HRG 466 SK is a powerful 160cc OHC 4-stroke GCV160 engine (made, of course, by Honda), ensuring a relaxed mowing experience and reassuringly consistent performance. Honda's GCV160 engine is also precision-engineered for reduced noise and vibration levels, therefore further ensuring your comfort and convenience. For an easy start every time, even in cold weather, the HRG 466 SK features a special auto-choke system, while the soft grip handle of the recoil starter cord further increases ease of operation. Outstanding manoeuvrability, meanwhile, is ensured by the mower's wheels, which feature smooth running ball bearings to make navigating around edges and obstacles far easier. 
The Honda HRG466SK also offers excellent collection performance, with a large 55 litre capacity grass bag included to save you time and energy by reducing the number of stops needed to dispose of clippings; a high airflow design, featuring a fine mesh to trap dust, further increases collection efficiency. Furthermore, for added flexibility the HRG 466 SK features an easy to use cutting height adjustment system, thus ensuring that the mower can handle a wide variety of cutting conditions. This system is operated via a simple lever mounted on the side of the mower and features six different positions ranging from 20mm to 74mm. 
Finally, when you are finished mowing the Honda HRG466SK is pleasingly ease to store thanks to the folding handlebar, which reduces the overall dimensions of the mower. This compact size, along with a low weight of only 32kg, also means that transportation is similarly hassle-free.
Stylish, tough and easy to use, our Izy range is bound to please. Whichever you chose, these mowers turn gardens into perfectly manicured lawns in no time.
Self-propelled (single speed)
Ideal for making light work of mowing
Self propelled mowers take the physical work out of mowing the lawn. Set to a comfortable speed you can let the mower do the hard work while you just guide it.
Unrivalled warranty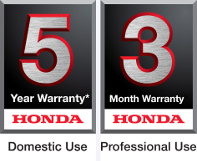 Our mowers are built better to last longer. That's why we can offer you a rock-solid warranty for domestic and professional use on our core range products, covering both parts and labour. The warranty also maintains the same value throughout the warranty period – meaning the last day of cover is exactly the same as the first.
*Subject to domestic use and following the service schedule