Description
The new Honda Izy HRG 466 PK is a new 18″ (46cm) pushed lawn mower that features an even more powerful Honda GCV160 engine, producing 160cc and 4.4hp of net power.
With the new Honda Izy HRG466PK, intuitive operation means there is nothing to learn and maintaining and storing the Izy is a doddle.
The recoil start is simple to use and provides an easy start in all weather conditions thanks to the auto-choke system.
The Izy HRG 466 PK features folding handles which allow you to store your mower in the garden shed without having to worry about how much room it takes up.
When you purchase this machine you can leave with peace of mind knowing that it has an array of safety functions such as the blade brake feature which stops the engine and blade when you let go of the handle.
The high quality steel deck is incredibly durable and lasts years. The deck has a rounded design which is great for optimal airflow for fantastic grass collection. It also means that there are no hidden areas for wet grass to stick too, meaning that cleaning the Izy HRG 466PK is not a hard job.
Emptying the Izy HRG 466 PK from the nicely sized 55 litre grass bag is effortless, and thanks to it being a large size, it means fewer trips to empty as you mow. It has a built in rear shield which drops down to protect your legs when the bag is removed.
This lawnmower has 6 cutting heights between 20 to 74 mm, giving you plenty of option when it comes to choosing your ideal grass finish.
Push type
Easy to manoeuvre and ideal for small to medium lawns
If you like to control your mowing speed but are not looking for a large machine the push IZY models are ideal for you. Easy to manoeuvre these mowers will work as you request.
Unrivalled warranty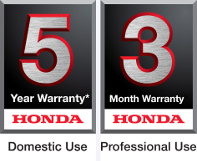 Our mowers are built better to last longer. That's why we can offer you a rock-solid warranty for domestic and professional use on our core range products, covering both parts and labour. The warranty also maintains the same value throughout the warranty period – meaning the last day of cover is exactly the same as the first.
*Subject to domestic use and following the service schedule