Description
The Honda Izy HRG416PK is a new 16″ (41cm) pushed lawn mower that features an even more powerful Honda GCV160 engine, producing 160cc and 4.4hp of net power.
With the new Honda Izy HRG416PK, intuitive operation means there is nothing to learn and maintaining and storing the Izy is a doddle.
Honda has made life a little Izy-er for all lawn lovers with the launch of its new class leading Izy lawnmower range.
Significant revisions to the second generation Izy model line-up include a redesigned blade which significantly improves 'cut and collect' performance as well as reducing noise by 30 per cent. To achieve this, Honda engineers spent six months performing extensive air-flow studies completely redesigning the blade from a clean sheet of paper.
Other significant revisions include the introduction of a new auto choke system. Maximising on decades of marine experience, engineers have developed a device based upon technology found on Honda outboards, which allows the engine to operate with optimum efficiency in all conditions.
The Honda Izy 416 PK lawn mower is a 16″ (41cm) pushed machine and is perfect for the compact lawn, or where there are lots of obstacles, bushes or trees to cut around. With Izy, intuitive operation means there is nothing to learn. Petrol and oil levels are easy to verify.
The pull start is specially designed to be virtually effortless. Flexible, double-lined cables make adjustments easier and more precise. As a general rule the 41cm Honda Izy mower caters for gardens less than half a tennis court in size. A push model is ideal for smaller gardens kept regularly in good trim.
Push type
Easy to manoeuvre and ideal for smaller less complex lawns
If you like to control your mowing speed but are not looking for a large machine the Push IZY models are ideal for you. Easy to manoeuvre these mowers will work as you request.
Unrivalled warranty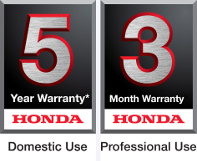 Our mowers are built better to last longer. That's why we can offer you a rock-solid warranty for domestic and professional use on our core range products, covering both parts and labour. The warranty also maintains the same value throughout the warranty period – meaning the last day of cover is exactly the same as the first.
*Subject to domestic use and following the service schedule