Description
DESCRIPTION
Light, quiet and provide excellent collecting performance
Electric lawnmowers
Ideal for small lawns.
Some lawns may only be small, but they still deserve the best attention. So, if you want to manage your lawn quickly and quietly and you need the lightest possible mower to lift or manoeuvre around your garden, look no further than our HRE range. The HRE range is unique; it's safe, it's Honda.
Unrivalled warranty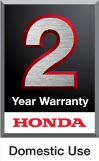 2 Year Domestic Warranty
Our mowers are built better to last longer. That's why we can offer you a rock-solid warranty for domestic and professional use on our core range products, covering both parts and labour. The warranty also maintains the same value throughout the warranty period – meaning the last day of cover is exactly the same as the first.
*Subject to domestic use and following the service schedule